Xpro Woo Product Description Widget For Elementor
Xpro Elementor Addons contain a wide range of WooCommerece widgets to help you develop an e-commerce website. The Xpro Elementor Woo Product Description widget allows you to effortlessly add sentences or paragraphs to your product layout.
Increase the effectiveness of your marketing by including details of your product's characteristics and benefits. Including a piece of product information can persuade a customer to buy your product. Customize the product description display by editing its typography and color.
How to Install Xpro Woo Product Description widget for Elementor
Requirement
You need to download and activate the WooCommerce plugin. Also, you need to install and activate the Free version of Xpro Elementor Addons. If you already have the plugin installed, just make sure the Woo Product Description Widget is 'Enabled' from the Xpro Dashboard, so you can find the widget in the Elementor editor.
To enable the widget, simply follow these steps:
Step 1
Click on the Xpro Addons option available on the WordPress Dashboard Menu.
Step 2
From the Xpro Addons Dashboard, click on the Widgets Tab, find the Woo Product Description widget, and finally, toggle the button ON to enable it.
How to Use Xpro Woo Product Description for Elementor
Explain the benefits a customer will receive after purchasing your product. Create a beautiful display of your product layout by making your product description attractive and easy to read. Let's discuss how you can utilize this widget.
Step 1
Create a product in the WooCommerce Product tab and give it a description.
Step 2
Open the Elementor Editor and click on the Xpro Theme Builder section.
Step 3
From the Xpro Theme Builder section, simply drag'n'drop the Woo Product Description widget on your desired page location.
The default view of the widget will look like this.
How to Make a Product Layout
Use the product description widget in your product webpage and boost your marketing. From the content tab, chose the type of content you want to display. You can either select full content or an excerpt.
Set the alignment of the content to left, right, or center of the screen.
How to Style Xpro Woo Product Description Widget
Customize the typeface of the number by styling its typography. Click and open the typography box to change its font, size, weight, letter spacing, word spacing, and much more.
Color the text from the color box.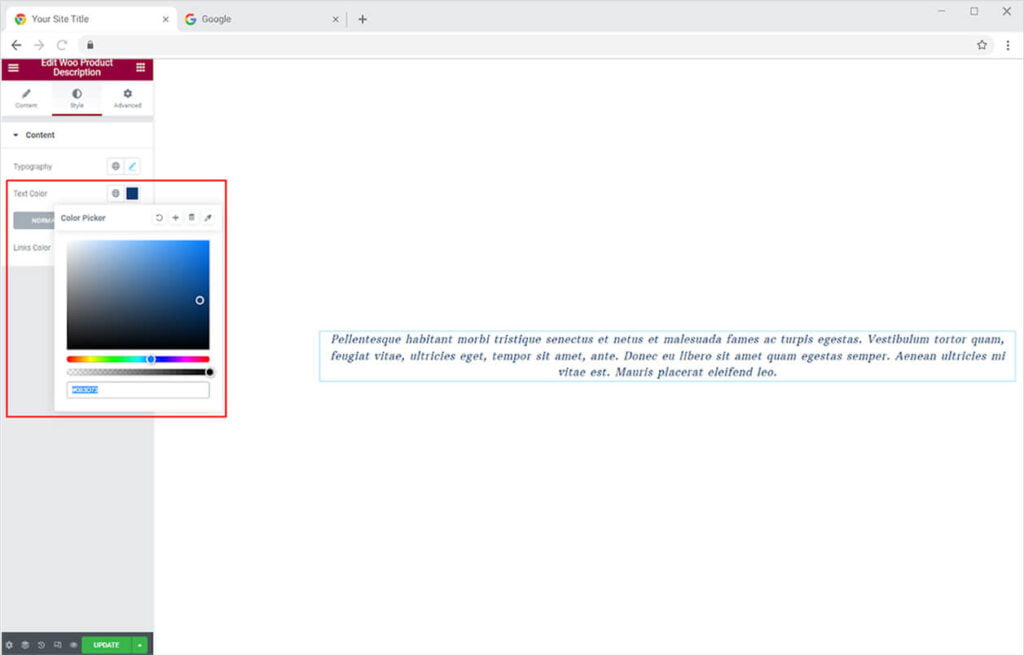 If you have included any anchor text in your description then you can color it for normal and hover display.
Now include other Xpro Woo widgets like a Product Price, Image, Title, etc to complete the product layout.
Best Woo Product Price widget for Elementor
We hope you fully understand the functionality and complexity of this Xpro widget. Utilize this WooCommerce widget to create an appealing product layout. Moreover, if you want to add more amazing and trending features to your websites. See the list of the best Pro Elementor Widgets by Xpro.
Xpro Elementor Addons offer a wide range of widgets, Elementor theme templates, and features that help you develop an attractive site. Check our 50+ free addons for Elementor which are enough to create a professional WordPress website. If you want to explore and add more attractive Elementor widgets then check our complete list of Pro Elementor widgets and download our Pro Elementor addons right now.