Pro Widget
Elementor Modal Popup Widget
Engage your site visitors with stunning Elementor popups. Convert leads on the spot with dynamic content, styling & more.


Make Dynamic Popups with Advanced Layouts
Use any Elementor widget to design your popups & show them up on multiple triggers.
Layout 1
Setup a Timer for Popup To Display In Splash Screen
Delight your site visitors with exciting popups. Trigger them at a specific time to collect useful data.
Layout 2
Set A Popup To Display On Exit Intent
Make visitors stick to your content by adding an exit intent popup & present your offers.
Layout 3
Display Dynamic Content & Make Unique Popups
Use our Elementor modal pop widget to create stylish popups with any dynamic content.
Layout 4
Dynamically Call Elementor Modal Popup Using Custom Link
Design popups that open once the page loads, on exit, inactive time, page scroll progress & more.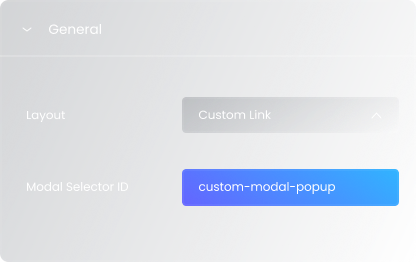 Give It A Unique Modal Selector ID
Add a custom link to showcase your popup anywhere on your WordPress website.
Link That Popup ID To Any Element
Simply link your Modal popup for Elementor to any button & trigger it once the user clicks on it.
Use Multiple Dynamic Triggers To Display Any Elementor Popup
Trigger your Elementor modal popup on any attractive content types & make visitors fall in love with your popups.
Use Icons To Trigger Popups
Use Lottie To Trigger Popups
Use Text To Trigger Popups
Use Video To Trigger Popups
Use Button To Trigger Popups
Use Image To Trigger Popups
Make Any Popup You Can Imaging using Dynamic Content
Use any Elementor widget to create stunning popups for subscriptions, promotions, lead generation, offers & more
Build Any Popup Possible

Gallery Images, Subscription Forms, Promotion Banner, Special Discounts, Lead Generation, Contact Forms

Using Any Widget
Use Dynamic Triggers To Close Your Elementor Popup
Unique Customization & Styling Options for WordPress Popups
Instantly grab the attention of visitors by adding exciting entrance animation, unique triggers & more.
Popup Entrance Animations
Set Popup Position Anywhere on The Screen
Use our premium modal popup for Elementor & showcase your popup just the way you want.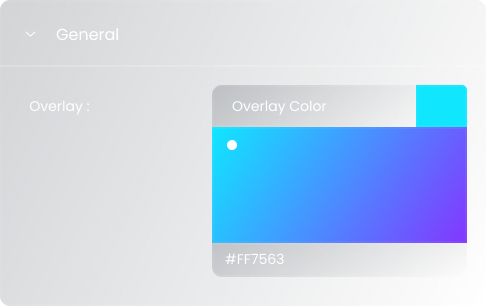 Set Overlay On Popup Background
Create eye-catchy popups by adding exciting overlay color & box shadow.
Advanced Styling for Popup Toggle & Close Buttons
Upload Custom Icons for Toggle & Close
Add any icon of your choice or choose from our premium line icons library & style them as you want.
Stylize Toggle & Close Button To Match Your Design
Add catchy gradient background to your buttons for normal & hover mode. You can also add border & box shadow.
Download 120+ Addons & Start Creating Amazing Websites
50,000+

Happy Customers, Happy Agencies, Happy Freelancers

Use Xpro Elementor Addons To Build Beautiful Websites