Pro Widget
Elementor Woo Product Filter Widget
Simplify your search process by using Elementor Woo Product Filter widget. Add multiple filter options and style them for your online store to enhance the user experience.
Narrow Down Your Search Results To Find Exactly What You're Looking For!
Refine your search options for visitors by adding filters on product categories, ratings, and price ranges. Utilize the product filter widget by Xpro
elementor addons
to allow your customers to get easy access to their preferred product.
Add As Many Filter Types As Required.
Elementor product filter options offer visual cues for visitors to understand the specific types of product attributes. You can add multiple filter types as per the requirements on your website.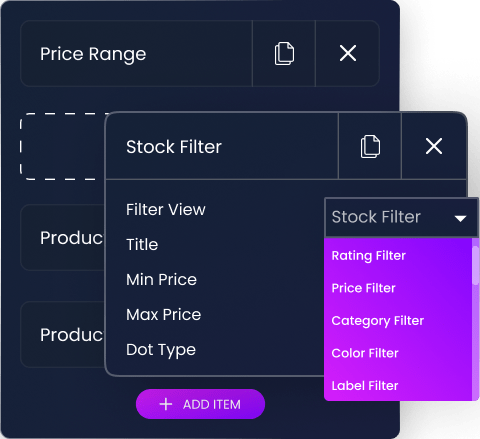 Select Any Filter Type From Options Available
Enhance your website usability by choosing the filter types from the given options. Add filters based on your customers' needs, like, Review, Price, Onsale/In stock products, images, and labels. You can even style and customize the checkbox, filter button, & review icons, with extensive styling options like colors, typography, and more!
Design Your Product Filters to Match Your Website Branding
Display your Woo products with style and elegance. Style and customize every element of your filters like the checkbox, filter button, & review icons, with extensive styling options like colors, typography, and more!
Get Help From Our General Knowledge Base
What are Woo product filters in elementor?
Woo Product Filters in Elementor allows you to add and customize filters for WooCommerce-powered online stores. These filters help enhance the user experience by enabling visitors to easily refine and narrow down their product search based on specific criteria. These filters are compatible with other elementor widgets.
How can I add multiple filters to my online store products?
You can easily add multiple filters to your products by enabling the elementor product filter widget. All you need is to drag and drop the widget and select from the filter options available. Customize and style the filters as per your requirement and publish the saved changes. For more details, visit our documentation guide on how to use woo product filters widget for elementor.
Do I need a third-party plugin to add the Woo product filters in elementor?
Yes, you need to install a third-party plugin called "WooCommerce" for Elementor. This plugin integrates specifically with Woo-Commerce widgets, allowing you to add and customize products in elementor.
From where I can get the elementor woo product filter widget?
Download 120+ Addons & Start Creating Amazing Websites
50,000+

Happy Customers, Happy Agencies, Happy Freelancers

Build Beautiful Websites Using Xpro Elementor Addons