Free Widgets
Free Elementor 3rd Party Contact Forms Widgets
Fully customize popular WordPress form builder plugins with our free contact form widgets. Personalize fields, typography, hover effects, CTAs & more.
Design Your Forms With Complete Customization Options
Collect useful data from site visitors in the most creative way. Style your contact forms as you want with our free Elementor contact form widgets.
Personalize Forms with Custom Styling for Every Field Type
Drive visitors toward your contact formsby adding exciting styling options.
Use our Free Elementor contact forms widgets to edit each field like buttons, text & paragraphs with popping colors, typography, border & more.
Style Elementor Contact Forms Visually for Any Screen Size
Fully design your Elementor Gravity forms, Ninja forms & others with extreme styling options.
Customize fields of your Elementor contact form 7 for any display device. You can add a gradient button, exciting fonts, hover color & more.
Build & Customize Third-party Contact Form Using Your Elementor
Design your contact forms just the way you like. Choose your layout and style it using our free Elementor forms widgets.
Fully Supports Popular WordPress Contact Forms Plugins
Our free forms styling widget comes with robust styling options for popular contact forms like contact form 7, Ninja forms, WPForms & more.
Install & Activate Any Third-part Elementor Contact Forms Plugin
Simply install & activate any supported third-party contact form to style it as you want.
Xpro Elementor Addons has dedicated styling widgets for contact form 7, WP Forms & Ninja Forms. Just drag'n'drop the widget & style fields, buttons, containers & more.
Design Any Contact Form with Your Favorite Form Builder
Our dedicated contact forms widgets allow you to design & style any of the 4 popular Elementor forms.
Do 3rd party integrations, add forms as you like and then simply style them using our creative Elementor form widgets.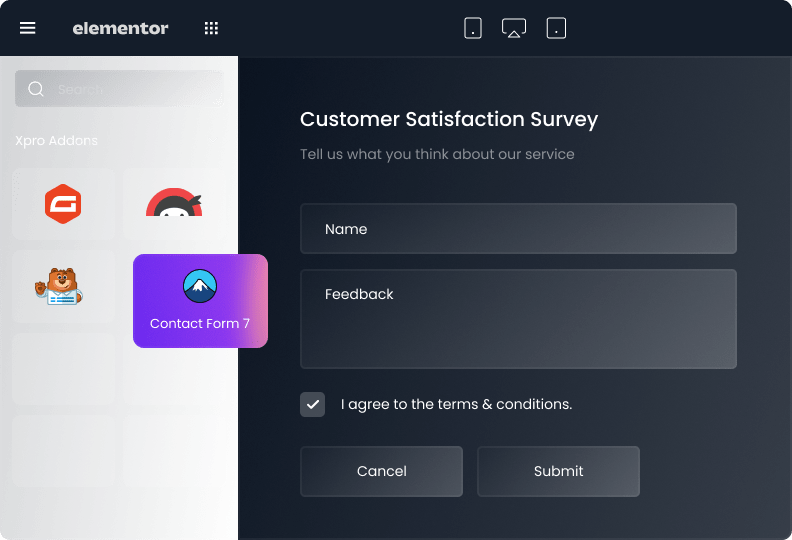 Create Surveys, Collection Important Data Get Subscriptions & More
Use our widgets to create attention-grabbing forms & collect user data on the go.
Our Elementor addons support all contact forms so you can easily style containers, add dynamic fields, and style buttons as you like.
Download 120+ Addons & Start Creating Amazing Websites
50,000+

Happy Customers, Happy Agencies, Happy Freelancers

Build Beautiful Websites Using Xpro Elementor Addons