How to Install Elementor Button Widget
Xpro Button widget for Elementor is a perfect FREE widget that allows users to easily design and customize buttons without the need for any other plugins or shortcodes. This widget allows you to make your call-to-action more effective and creative with amazing hover animations, SVG animations, multiple colors, and so much more.
An option to add a link to your pages helps you to promote your content or products and buttons are great to deliver this information faster and in a more attractive way to website visitors. It's always important to add CTAs while designing your website to allow visitor to go to the link where they want to go.
Elementor Button Widget is an easy-to-use widget and the perfect way to display your CTAs. You can add multiple buttons and also use customization features like adding a title, image, icon, and much more. You will have full control over style options and hover effects. Let's see how you can fully utilize this incredible free widget for your Elementor websites.
Requirement
You need to install and activate the free version of Xpro Elementor Addons. If you already have the plugin installed, just make sure the Button Widget is 'Enabled', so you can find it in the Elementor editor.
To enable the widget, simply follow these steps:
Step 1
Click on the Xpro Addons option available on the WordPress Dashboard Menu.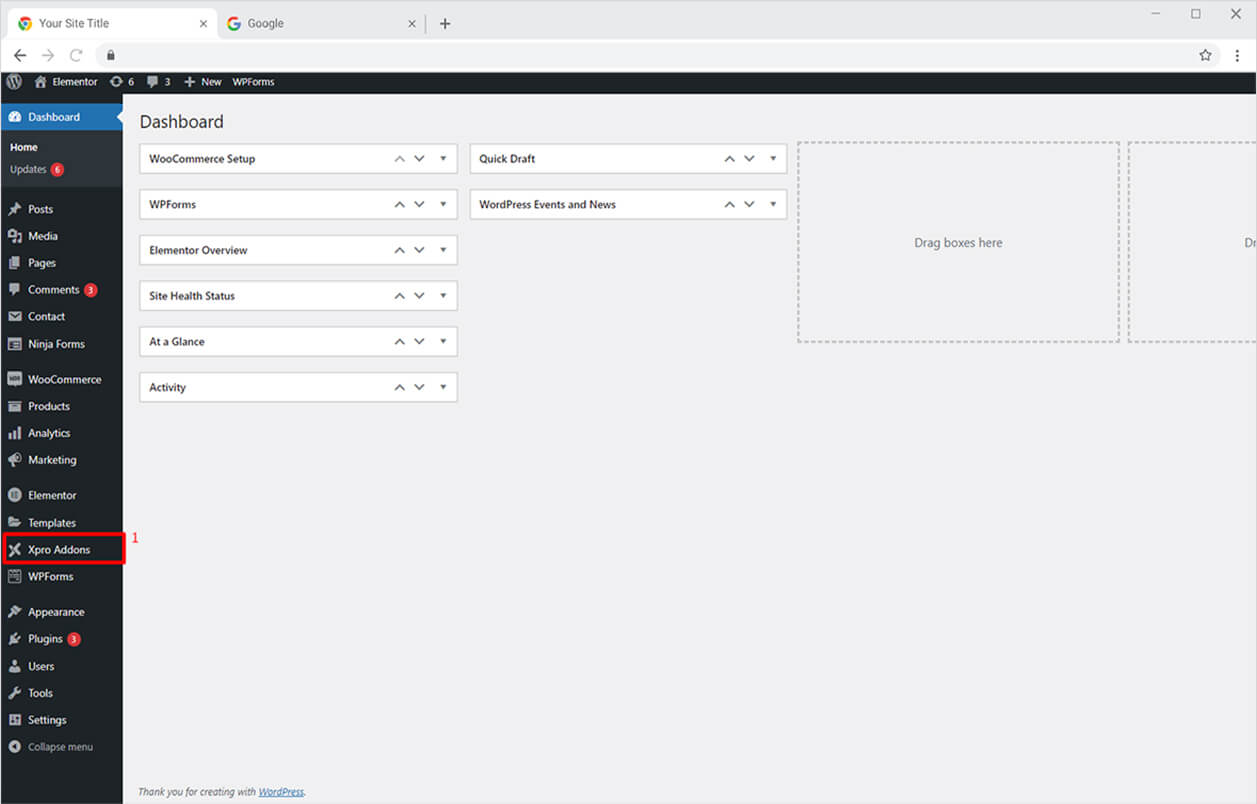 Step 2
From the Xpro Addons Dashboard, click on the Widgets Tab, find the Button widget, and finally, toggle the button ON to enable it.
How to Use Xpro Button Widget for Elementor
Our button widget allows you to add numerous buttons on a single page or section of your website as per your requirement. It also gives you the option to style each button separately. Moreover, you can add a trendy icon or can add an interactive image along with the text content to flavor up your button appearance on your Elementor site.
Adding icons/image also gives you more control over styling options. Style buttons with striking hover effects and add cool animations to make it look more appealing on your WordPress websites. Our simple-to-use widgets allow you to create stylish buttons in no time. Add the most appropriate buttons and text and style them to match the theme of your website. Let's see how quickly do this.
Step 1
Click on the Xpro Addons section available in the Elementor Editor.
Step 2
From the Xpro Addons section, simply drag'n'drop the Button widget on your desired page location.
This is the default view of our Xpro elementor Button widget.
Try our Free Elementor Theme Builder to customize header, footer, blog archives, 404-pages, search result pages, coming soon page, and more. Replace the default site parts and create your own custom template to match your design goals.

By Xpro Elementor Addons
How to Add Content in Button Widget for Elementor by Xpro
Start from the General Section in the Content Tab. First, Here you can add the text and a link to the page where you want to take your visitors. After that, you can adjust the alignment of the button. You can also add an icon of your choice from our Xpro icon library or a custom SVG from your desktop.
How to Style Content in Button Widget for Elementor by Xpro
Once done with adding content, you can shift towards your favorite part for styling under the Style Tab. At first, you can change text typography. You can also add text shadow. Moreover, you can also apply a gradient as a background color. You can also add a border and adjust padding from the options under the Style Tab. Similarly, you can change the color of the icon separately from the Icon Section.
Similarly, you can add Hover Effect to the Button. The final result will hover effect will look something like this.
That is all from our Button Widget for Elementor. I hope now you have a better understanding of how to fully utilize our easy-to-use Button widget by Xpro and create the best suitable buttons for your websites.
If you want to explore and add more attractive features then head over to our Xpro Counter Widget for Elementor documentation right away. Moreover, if you want to add more amazing and trending features to your websites. See the list of the best free elementor widgets by Xpro.
Xpro Elementor Addons offers an extensive set of widgets, features, and theme pages to assist you in creating an appealing website without the need for technical coding. Xpro provides over 50 free Elementor widgets to assist you in creating a WordPress website. If you want to explore and add more appealing Elementor widgets, view our whole collection of Pro Elementor widgets and download our Pro Elementor addons right today.