Pro Widget
Elementor Advanced Tabs Widget
Create beautiful tabbed content for your website by adding dynamic content and customized styles.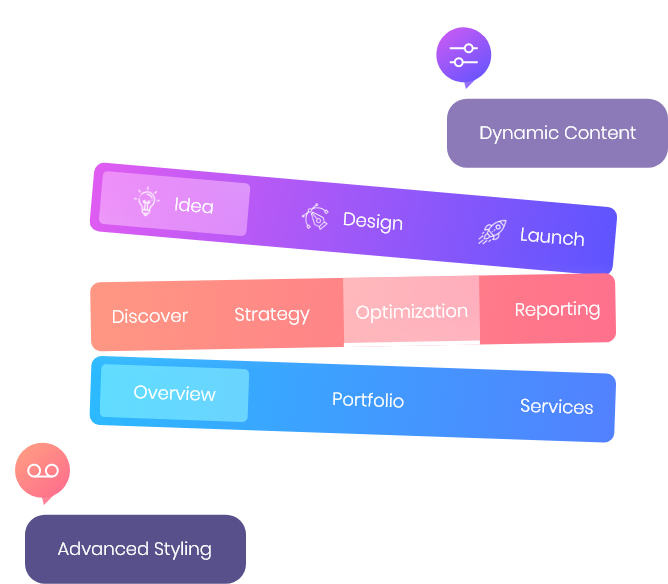 The Most Advanced Tabs Widget
A powerful tabs widget that offers extreme customizations for each content element.
Dynamic Content Creation On The Go
Instantly import and customize any widget for your tabs to personalize user experience at all touch points.
Powerful Customizations & Mobile-ready
Fully style and customize your tabs for mobile devices to provide an uninterrupted experience for visitors.
Advance Feature
Responsive Styling As Accordion Or Dropdown
Design responsive view for both active & normal tabs. Add aesthetics to your content by changing text, background & border colors.
Vertical Style Tabs With Dynamic Content
Unique Feature
Creative Customization Options For Every Layout
Remove the clutter and smoothly style tabs content in a limited space. Add dynamic content in each tab & edit on the go to entice your users.

Horizontal Style Tabs With Dynamic Content
Design It The Way You Want
Unleash your creativity by adding unique icons, animations & design layout styles as you like.
Advanced Feature
Tabs Orientation with Unique Layouts
Choose from our unique 16 horizontal & 4 vertical layout styles l. Add gradient, customize border & text colors to create branded tabbed content.
Download 120+ Premium Addons & Start Creating Amazing Websites
50,000+

Happy Designers, Happy Agencies, Happy Freelancers

Use Xpro Elementor Addons To Build Beautiful Websites