How to Install Xpro Elementor Addons Pro
In this guide, I'll help you quickly install and activate your Xpro Elementor Addons – Pro plugin. First, congratulations on choosing the best Elementor Addons in the market. If you still haven't purchased our Pro version then I'll suggest looking at our best Elementor Addons bundles and choosing the one that best suits your web designing needs.
Pre-installation Requirements
I hope you've already installed WordPress & Elementor Page Builder as these are essential to using Xpro Elementor Addons. If not, simply follow the step in the links below to quickly set up WordPress & Elementor.
Install WordPress – official guide by WordPress Team.
Install Elementor – official steps by Elementor Team. You can also take help from this video tutorial.
Moving on, make sure you have Xpro Elementor Addons (Free) installed and activated beforehand. Check our guide on how to install Xpro Elementor Addons – Free if you don't have our free version installed.
Download the Elementor Plugin
If you have not purchased the Xpro Elementor Addons – Pro plugin then follow our purchase process to quickly buy our Pro license. Once you have completed the process, you'll receive a Purchase Receipt via email including the following:
Purchase Receipt
License Key
A downloadable Plugin .zip file
Simply download the plugin by clicking on the file name. Also, copy the license key provided in the email. (Check the spam folder if the email isn't available in your inbox.)
The Alternative Method to Download Xpro Elementor Addons Plugin
Another method to download the plugin is from your Xpro User Dashboard. Follow these steps to download the plugin
Login to your Xpro account via this link.
From the Dashboard click on the 'Purchase History' tab.
Under the 'Details column', click on 'View Details and Downloads' against your purchased product. The link will take you to the 'Purchase Confirmation' page where you can easily find the plugin link.
Under the Product section, you will find the downloadable Plugin zip file.
Install Xpro Elementor Pro
Remember, you need to install and activate the Free version of Xpro Elementor Addons in order to use the Pro version. Check our guide on how to install Xpro Elementor Addons – Free if you have not installed our free plugin.
Log in to your WP Admin Dashboard and go to the Plugins option from the sidebar menu. Now click on Add New button.
Now click on the Upload Plugin button, choose the plugin file from your system directory, and hit the Install now button.
Once the plugin is installed, click on Activate Plugin button.
Your plugin is now installed, and it will be visible on your Plugins page.
Activate Your Plugin via License Key
Now let's activate your license of Xpro Elementor Addons Pro. Go to WordPress Dashboard > Xpro Addons and click on the License field. Paste your unique key in the License Key field. You can find the license key from the Purchase Receipt email you got while purchasing the plugin. Finally, click on Activate License button.
Once the license is activated, the License Status will turn Green. You will also find the expiry date of your license.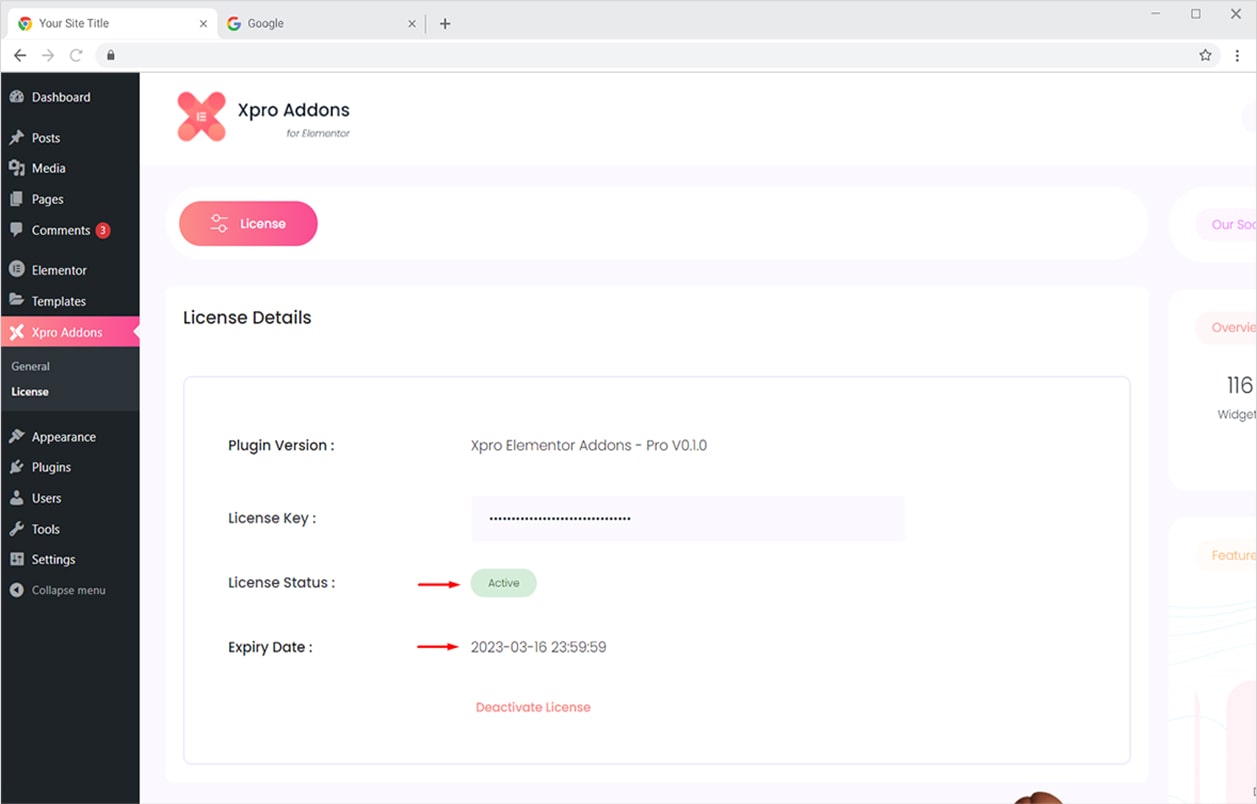 Your premium license is now activated. You will get access to all premium widgets, templates, sections, extensions, expert support, and much more.
What's More!
Check your account credentials in the email and log in to your Xpro account. You can check your purchase history, update your profile, and get priority support. Once you're good to go, check our Premium Elementor Page Templates to quickly design your websites. You can also take help from our comprehensive Elementor Documentation of Xpro Elementor Widgets, Elementor Extensions, and our FREE Elementor Theme Builder.